The GRC Supper Club is a global peer group network connecting senior risk professionals, with like-minded peers, subject matter experts and technologists. In these challenging times... the GRC Supper Club is going Virtual.
Episode 1 - was held on Thursday, 14th May and the panel discussed "Will Covid-19 lead to a reframing of operational resilience in the boardroom?" With over 100 attendees, the evening was a huge success.
The panel for this session were:
Dr Sandra Bell, CEO The Business Resilience Company
Michael Rasmussen, GRC Analyst & Pundit
James Green, Dir. Risk Advisory, SAI Global
Alongside host, Lee Edge, the panel sparked a healthy debate and prompted plenty of questions. Artist Danny Burgess was on hand to capture the event and some of the key take-aways.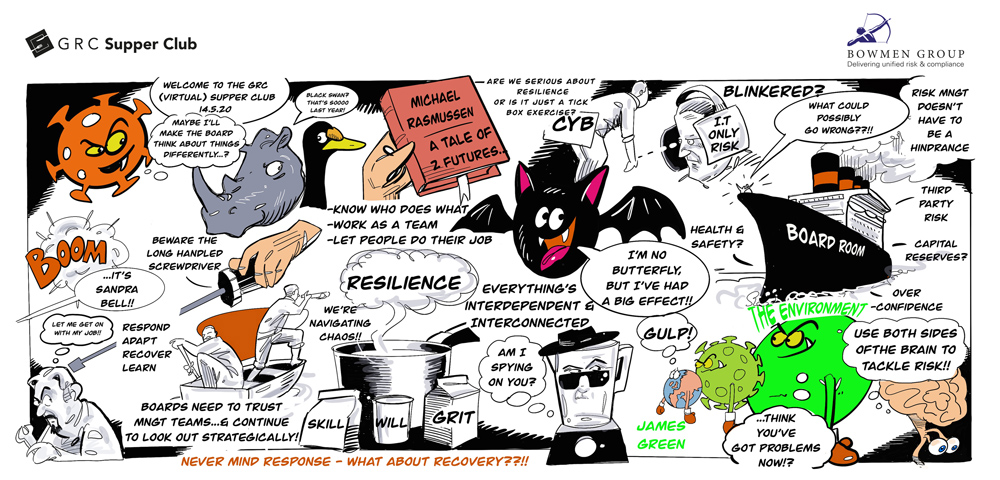 There are two more Events planned.
Episode 2: Will companies start to embrace the 'Zoom' work culture and how will this impact their risk environment? - Thursday, 28 May @ 6pm to 7pm BST
Episode 3: Does the path to greater resilience require a combination of increased regulatory compliance & trusted technology? - Thursday, 11 June @ 6pm to 7pm BST
More details to follow, hope you can join us next-time.