On Thursday, 28 May @ 6pm to 7pm BST the Bowmen Group were proud to sponsor Episode 2 of the GRC Supper Club "Virtual" Trilogy.
The GRC Supper Club is a global peer group network connecting senior risk professionals, with like-minded peers, subject matter experts and technologists.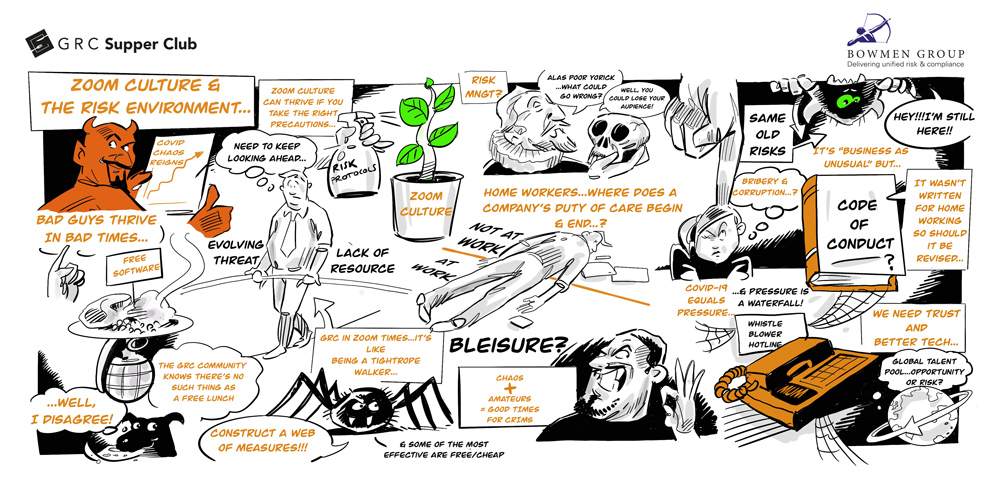 On the evening the panel of experts discussed the topic: "Will companies start to embrace the 'Zoom' work culture and how will this impact their risk environment?"
The panel included:
Stelios Valtzis - CISO, SaarGummi Group, Luxembourg
Stelios is B.Eng. in Electronics Engineering and a Blockchain Technology tutor with extensive international experience in Telecommunications, Automotive, Shipping, and Manufacturing.
His experience includes assignments in many European countries, the Middle East and Africa. A member of the Hellenic Blockchain Hub and has written articles on IT security issues, GDPR, Blockchain, Smart Grids and Industry 4.0.
He has presented at national & international conferences and has been a member of local and central Government committees in Greece, for the implementation of green technologies & digital strategies.
Chris Philips - CEO of The International Protect and Prepare Security Office (IPPSO)
Chris is a fellow of the Security Institute and the Chartered International Institute of Risk and Security Management.
Over 39 years experience in policing, Counter Terrorism security advising corporate, government and private clients across the world. Leading the UK's National Counter Terrorism Security Office he developed and delivered the Counter Terrorism Crowded places strategy.
He has delivered training, run projects and operations across the world. A regular commentator for the international press, he has written numerous 'good practice guides' and is frequently invited as keynote speaker at international conferences and summits.
Sean Freidlin -  Dir. Ethics & Compliance learning, SAI Global
Sean focuses on helping organizations build successful ethics and compliance programs.
He's been published by the SCCE blog and Corporate Compliance Insights and has appeared on the Innovation in Compliance podcast with Tom Fox.
He helped co-found International Compliance Officer Day and is the creator of the Compliance Coloring Book.